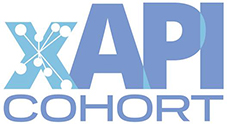 Overview
The purpose of our Experience API (xAPI) cohort project is to explore patterns in behavior for different types and lengths of video, and to investigate how video interactions are tracked with the xAPI. Given the short time frame, we decided to leverage several existing internal resources for our project. Our approach and instructions are provided in the following sections.
Cropping & Cocktails
We took advantage of team member offers to create some video content from scratch. John Menken developed videos on tips for using both Photoshop and GIMP for image editing. Erin Creuz also proposed creating mixology (aka bartending) video recipes for making some popular cocktails such as the Mojito, Mint Julep, and Blood Mary. When you put them all together you get, "Cropping & Cocktails!" PLEASE NOTE: DO NOT attempt to combine the practices of image editing and drinking cocktails... unless you want to risk accidental spills on your keyboard ;-)
Video and xAPI
Jonathan Kevan and Jason Haag are members of the xAPI Video Community of Practice (CoP). The Video CoP published a video profile in 2017 and also created a reference implementation using the VideoJS player. Jono Poltrack also provided the team with access to the Veracity Learning LRS for storing and visualizing the xAPI data.
Assessments & Heatmaps
We're also interested in evaluating learner activity in videos and correlating it to performance on an assessment. We're also looking at specific time slots (or segments) within the video that were tied to specific learning objectives in the assessment. We'll look at patterns in the videos that were replayed over and which objectives in the assessment were satisfied vs not satisfied.